Evix Group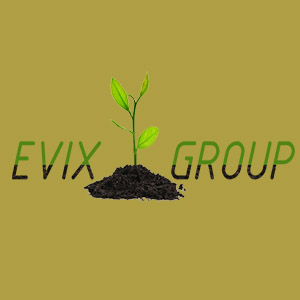 Phone Number: +961 (0)1 792 024
Address : Lebanon - Beirut Ramlet El Bayda Bank Lebanon and Gulf 4th Floor
Evix Group is an agricultural group of companies. We provide Medical Support, fertilizers, plant-protection seeds, Natural enemies laboratories (beneficials), irrigation equipment, and metallic structure to the agricultural sector in Lebanon supported by a group of agricultural engineers (crop advisory team) whose main responsibility is to assist farmers in managing there farms to get optimum results. Evix Group expanded its services as a landscape developer inside Lebanon the increased awareness of the risks that industrial agriculture has been posing to the environment and human health, led to a radical change in the human life stile.
Conventional agrochemicals have been used for many years , negative side effects due to their application on cultivated crops emerged, and therefore several active substances were withdrawn from the market, while others were subjected to restrictions for use and long pre-harvest intervals ( the time between the last pesticides application and harvest of the treated crop).
Furthermore, due to new information and data, maximum residue levels of many active substances were reduced.
The pesticide re-registration process is still ongoing. Other additional active substance, which used to be considered safe, may be subjected to strong limitations and restrictions, because involuntary intakes of pesticide residues in food may result in new, sometimes delayed ,pathological effects.
First of all, consumers started to ask for safe food, with human nutrition becoming selective and conscious.
the first step taken by the competent authorities consisted in implementing and supporting the development of regulatory tools for favouring the achievement of a sustainable agriculture pest management strategies. in other words , the new regulations aim at protecting human health and the environment. all these changes in the agricultural system somehow took a long time to occur, mainly because novel general knowledge and scientific know-how had to be gained, and adequate tools for sustainable production had to be developed.
Evix Group. has concentrated its effort on the registration of Bio specialities, officially approved for the use in organic agriculture over the years of these products in integrated pest ,management strategies has increased continuously, and their use is not limited any more to the niche market of organic farming, these products, instead, are now supporting so-called 'conventional' operators ( growers, farm advisers, food producers and processors) the registration of numerous microbial antagonists ( viruses, fungi bacteria etc.. ) enabled Evix Group.. l to position itself as an IPM pioneer onto the Lebanese and middle east market which offers ' the biological contribution to integrated agriculture..